ErectaRack pipe rack modules are pre-engineered for loads with various variables and products such as crude oil, condensate, liquid natural gas, and other energy products and byproducts. ErectaRack makes building one easy and painless anywhere a heavy-duty pipe rack is needed.
ErectaRack offers numerous options for your pipe storage, including tube racks, bar, conduit, rebar, steel, tube racks, pipe stands, and various pipes. In addition to the prefabricated ErectaRack pipe racks, we can design custom & engineer a pipe rack specifically for your material handling needs. Our racks can be used for floor storage, or even better stacked at multiple levels to save valuable storage space.
ErectaRack offers a wide range of pipe racks, tube racks, and pipe racking. If you need advice on selecting the best solution for your pipe racks, our experts can help configure the best solution for your needs, and our SafeRack Construction Services (SCS) team can install it.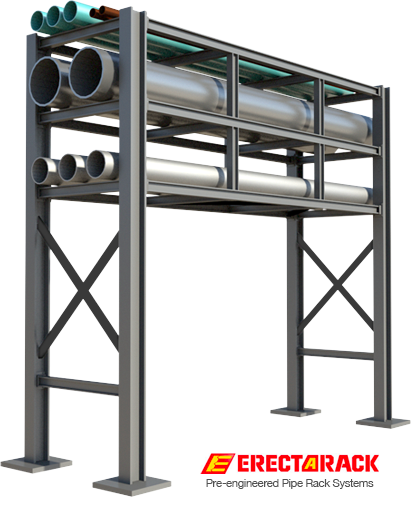 Modular Pipe Racks Faster and Easier than Custom Fabricated
ErectaRack eliminates the long engineering and fabrication process typically involved in pipe rack design and construction, often taking several weeks if not months. ErectaRack's pre-engineered system is precision manufactured using the latest laser technology and robotic.